Top News
BREAKING: Volta Region House of Chiefs Send Strong Message to GES Over 'Offensive Textbooks' -[See Full Statement Issued]
The emerging report available to HITZBITZGH has it that the Volta Region House of Chiefs has added their voice in the warring offensive textbooks issue.
The uproar over the textbooks believed to contain some ethnocentric comments about Ewes is still causing stir.
Many have raised their voices to condemn the publishers of the books. According to many, this is a distortion of the history of Ghana and also a recipe for disaster for Ghana if left unchecked.
Earlier today Adams Bonaa sent a strong message to the President and top wigs at the Education offices to fix this problem because small things like this if left unchecked will lead to future crises.
This afternoon the Volta region House of Chiefs has also sent a strong warning to the Ghana Education Service.
The Chiefs condemned the derogatory comments and called on all the books to be recalled. They asked for an unqualified apology and called on other ethnic groups to condemn the comments.
In conclusion they said that if the books are still found outside afterwards they will resort to all legal means available.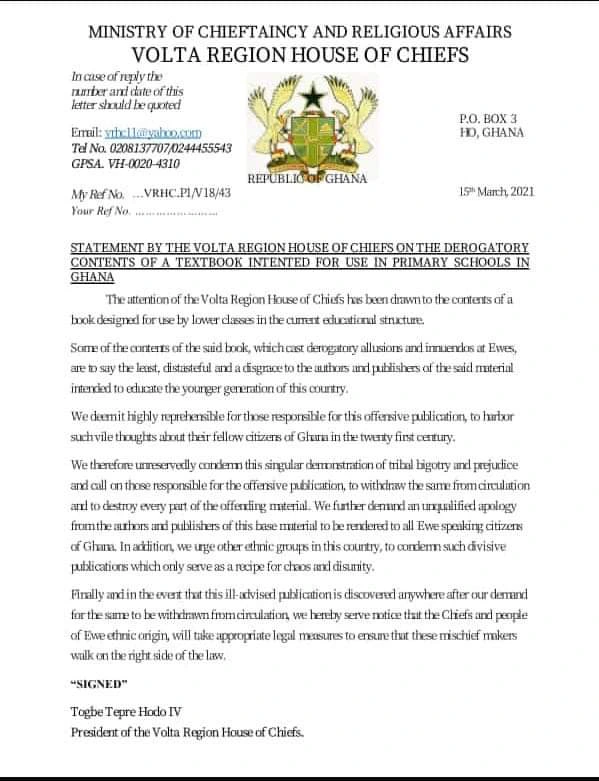 Interesting times ahead of us as a nation. What do you think about this?. Share your thoughts.