Top News
Check Out The Big Demands Apam River gods Made To Be Sacrificed To Appease Them That Cause Massive Uproar -[CHECK LIST]
There is unceasing talk among Ghanaians following the list of animals which has been released as the demands from Apam River gods.
These animals according to what HITZBITZGH gathered are expected to be used as sacrifice to the gods as they demanded.
Brief background has it that the country woke up to sad news a week ago when news broke out that a number of children aged between 14-17 had drowned in the Apam sea.
So far about 13 children have been confirmed to be dead with reports saying that the number might rise.
Many are wondering what could have caused the drowning of the kids especially at a time when beaches have been banned from operating.
According to the Chief of Apam, the children used an illegal route to the sea. He noted that beer and Guinness bottles were found at the scene and rituals and libation have been performed to appease the gods. Many more are expected to be done.
The chief hinted that it is possible the kids did something abominable to have been drowned. Today, Monday, March 15, 2021 Joy News is reporting of the demands the priests are making in order to complete the appeasement.
Today Chiefs and people of Gomoa Akyepim have begun the appeasement.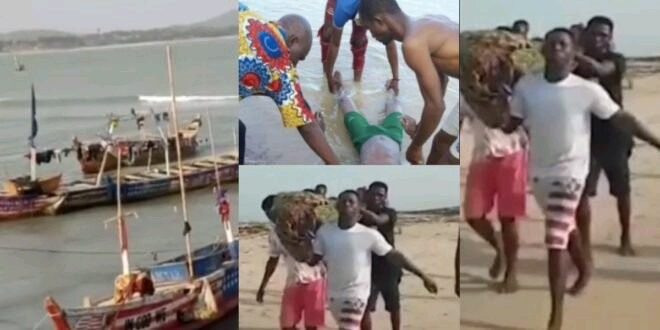 The gods according to the priests are demanding 1 big cow, 3 sheep, 12 fowls and 33 tubers of yam to be appeased.
Last week the Minister of Fisheries Hon. Hawa Koomson donated GHS36,000 to the traditional leaders and parents for compensation and ritual appeasement.